Schottel EcoPeller Meets Yachting Sector Demand for Thruster Efficiency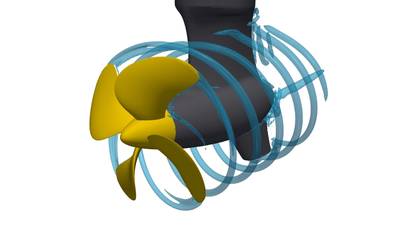 Owners, naval architects and shipyards are increasingly turning to environmentally friendly propulsion technologies for yachts. They heavily focus on thruster efficiency and thruster usability in conjunction with diesel-electric ship concepts. Schottel says its EcoPeller (SRE) meets these requirements.
It can be ordered with power ratings up to 5,400kW per thruster and is currently being delivered for several newbuild yachts. With lengths of up to 100 meters, the super- and giga-yachts are being equipped with SREs ranging from power ratings of 560kW up to 1,250kW per unit.
With these and other projects on the way, Schottel is seeing the SRE rapidly rise in popularity in the yacht sector.
Because the SRE is a 360-degree azimuth thruster, it offers maximum maneuverability for yachts. This is valuable in ports or other places requiring high-precision maneuvering. In addition, it provides outstanding course-keeping stability and fuel efficiency, says Schottel. It is especially suitable for medium ship speeds in the range between 16 and 18 knots and optimized for open seas and coastal operating conditions. Depending on the general operating conditions, the SRE allows maximum speeds of up to 25 knots.
"Thanks to the particularly effective combination of powerful propeller thrust and lateral force, the SRE fulfils all the requirements of a modern high-performance propulsion unit. Its design enables it to produce maximum steering forces with minimum steering angles. It minimizes the oblique inflow to the propellers, which leads to ultra-silent operation and top values in terms of overall efficiency. This reduces fuel consumption and ensures lower operating costs and emissions per nautical mile. The fuel savings can also significantly increase the operational range of yachts and allow them to spend more time at sea," says Schottel.
Schottel's LeaCon seal monitoring system has been certified by DNV. As an optional feature of the SRE, it offers safe and reliable protection against seawater contamination caused by operating materials. Separate seals to the seawater and gearbox side ensure that, in the event of seawater coming into the system or gear oil going out of the system, the liquids are collected in an intermediate chamber. LeaCon is also used to monitor the condition of the seals, so operational wear can be detected at an early stage and unscheduled maintenance avoided.
Schottel says its EcoPeller is one of the most space-saving propulsion systems due to its compact design. The combination of an ultra-compact azimuth module and an electric motor with low installation height (embedded L-Drive) gives designers and architects more freedom when designing yachts and leaves more space for other purposes. The system's PM motors can be supplied by Schottel or obtained from the customer's choice of manufacturer.
The patented HTG gearbox, which comes standard on the SRE, ensures the lowest possible noise and vibration levels. In addition, the well of the thruster can be decoupled from the hull by means of an elastic installation, which further dampens vibration and sound transmission.
The EcoPeller combines modern propulsion with comfort and efficiency, so Schottel expects a steady increase in demand for the thruster over the coming years.