Making the Case for Diesel Outboards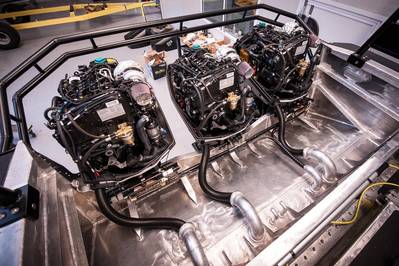 Now more than ever, professional operators are opting to run outboard engines on a various small military craft, patrol boats, multi-mission workboats and other vessels that have traditionally been powered by small to midsized inboard engines.
Using engines that can be mounted on the outside of a vessel instead of those requiring placement inside the hull presents a number of advantages, including space savings on board, easier access for maintenance as well as simpler, quicker replacement, to name a few.
And when it comes to outboards, there's been a lot of buzz around diesel, which offers a number of its own advantages.
"Probably the simplest is the safety of the fuel," says Luke San Antonio, Commercial Product Specialist, Mack Boring & Parts Co., the U.S. Northeast distributor for Sweden-based diesel outboard engine manufacturer OXE Marine.
Compared to gasoline, diesel is a less flammable fuel and therefore much safer to work with in all working environments. In addition, with diesel engines the combustion of fuel takes place due to the heat generated by the compression of fuel and air inside the cylinder. Compression ignition is safer than petroleum being ignited by a spark plug, or any other spark.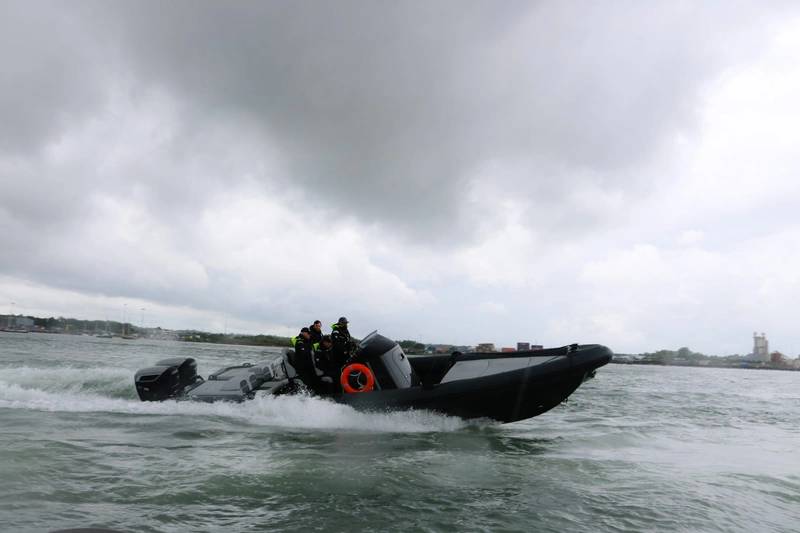 (Photo: Cox Powertrain)

Myron Mahendra, CEO of OXE Marine, adds, "Many vessels are hindered by regulations to carry petrol onboard if fire safe containment is not provided. The use of petrol is, therefore, a challenge for any vessel with tenders."
And then there's the NATO single fuel concept, which aims to maximize equipment interoperability through the use of a single fuel. U.K.-based Cox Powertrain, manufacturer of the 300-horsepower CXO300 diesel outboard, like OXE, cites this as a key driver behind the development of its product.
Naval, military and rescue vessels equipped with diesel outboards are able to use fuel supplied from the tanks of mother ships, eliminating the need to carry or handle hazardous petrol completely, Mahendra says.
OXE Marine noted in in its 2019 fourth quarter report that it has delivered production units for government services in the U.S., Australia and Bangladesh, and the company is working to line up long-term sales for other governmental projects. According to San Antonio, both the U.S. Navy and U.S. Coast Guard have been using or testing diesel outboards on different platforms.
Another benefit associated with diesel is efficiency. Both Cox and OXE point to significant fuel savings compared to gas. Cox claims its 300-horsepower CXO300 offers roughly 30% fuel savings compared to its gasoline equivalent, while Mahendra says the 300-horsepower OXE 300, due to enter production shortly, uses up to 42% less fuel than a comparable gasoline outboard.
And with better efficiency typically comes longer endurance. Mahendra says the OXE diesel offers a 70% increase in operational range compared to gas outboards. "Not only will you see a lower fuel bill if you are putting high hours but you can stay offshore longer," San Antonio says.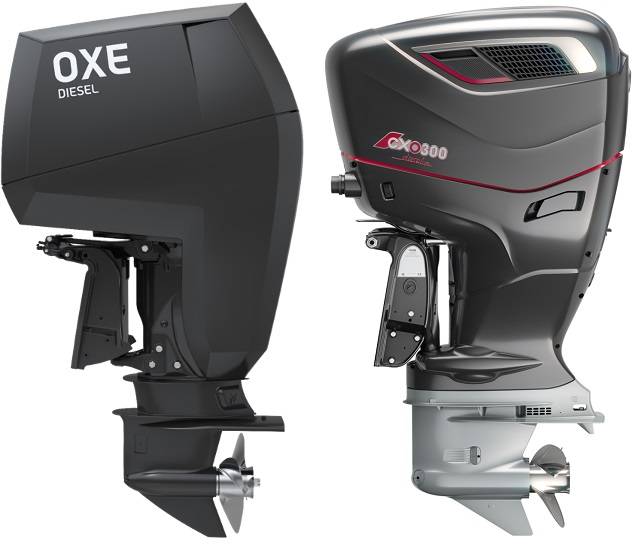 Joel Reid, Cox Powetrain's Global Sales Director, says diesel outboards appeal to "those who need the outboards for their tenders on the mother ship because they carry diesel and they do not want to carry gas and those that burn high volumes of gas and therefore want to bring down their burn rate or increase their range."
When asked about the CXO300's advantages compared to other propulsion configurations, Reid says "We don't advocate operators to use diesel over gas or outboards over inboards; everything has its place in the market. It's normally the case that [the customer] wants diesel and they want outboards, and therefore it's a natural fit."
He says operators that come from a diesel inboard often seeking the simplicity of installation and the ease of service/repair of an outboard. "It reduces their risk of downtime so they almost see it as an insurance policy," he explains.
Mahendra says diesel outboards combine the endurance, torque and fuel use of inboard stern drives with the flexibility and replicability of outboards, making them a great fit for commercial and government operators. A wide range of vessels, from barges or slow platforms built for harbor work all the way up to interceptor applications for coast guard or search and rescue applications are running OXE diesels, he says.
"All OXE Diesel models are designed and built for the commercial user according to commercial user demands. They have been designed to combine the reliability and endurance of marine inboards with the flexibility and agility of marine outboard engines," he says.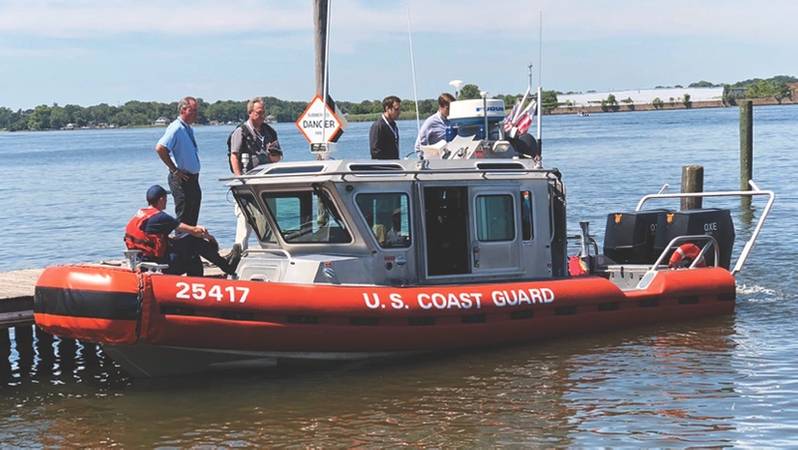 (Photo: OXE Marine)

Eying strong prospects in the United States, OXE Marine recently signed a deal with Outdoor Network Manufacturing to produce OXE diesel outboard motors in 125-200 horsepower in the U.S., with plans to add the 300-horsepower engine production for availability from January 2021. The process for selecting the final manufacture site in either Florida or Georgia is ongoing. In addition to Mack Boring & Parts on the East Coast, OXE diesels are sold by Laborde Products in the Southeast and Diesel Outboards in the West.
While the OXE diesel is offered in several power options from 125 to 300 horsepower (its 300-horsepower model is scheduled to enter production later this year), Cox's CXO300 is currently only offered at 300 horsepower. "When we began the development of CXO300 that was the most common horsepower rating used among the big outboards. As time has passed the power rating has increased, hence why we will be launching higher power diesel variations in the near future," says Reid. "We are already working on new models and we hope to be able to share more information toward the end of the year in preparation for a 2021 launch."
Cox began producing its CXO300 in May, in Shoreham-by-Sea, U.K. for deliveries later this year. Its distributors in the U.S. include Boatswain's Locker on the West Coast, Texas Diesel Outboard, Innovative Diesel Technology and Ring Power splitting up the South and middle America, and Power Products in the Northeast.
Both OXE and Cox diesel outboards are pricey compared to their gasoline equivalents, in some cases costing up to twice as much to purchase. But the many benefits for commercial and government customers – including better fuel efficiency, increased durability and lifespan, and improved safety (which is priceless) – may provide enough savings over time to make up the difference, and then some.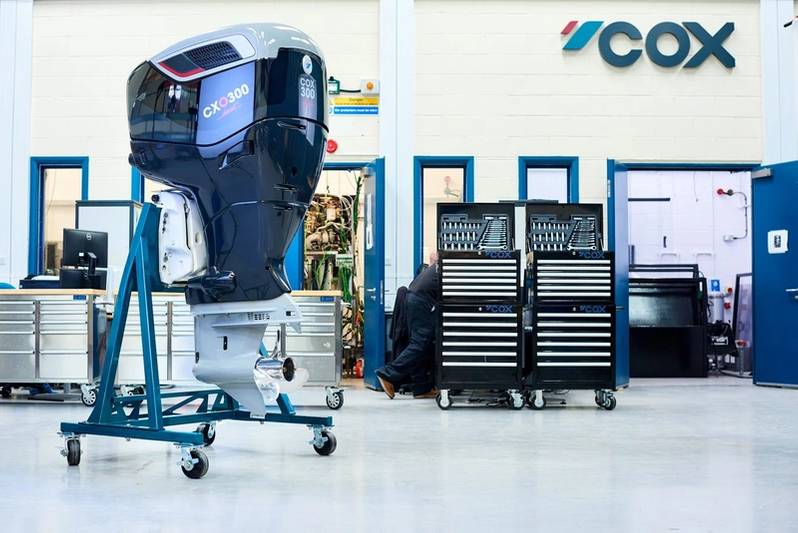 (Photo: Cox Powertrain)


• America • Australia • Bangladesh